Painted during a residency in Copenhagen in the Fabrikken for Kunst og Design. The series consists of 22 large-format paintings on joined seed bags with a total of 36 animals. These cows have been awarded with the 4th Hubert Berchtold Painting Prize in 2009.
Die Serie entstand während einer residency in Kopenhagen in der Fabrikken for Kunst og Design. 22 grossformatige Malereien auf zusammengenähten Saatgutsäcken mit insgesamt 36 Tieren. Die Serie MY SECOND HERD wurde 2009 mit dem 4.Hubert Berchtold Preis für Malerei ausgezeichnet.
axel, rocko, kongo und luis, 320 x 250 cm
sindy und schelma, 190 x 320 cm
OLMA & ALVA, 180 × 290 cm
CHAMPAGNER & TURQUISA, 200 × 290 cm
alpha und romeo 190 x 320 cm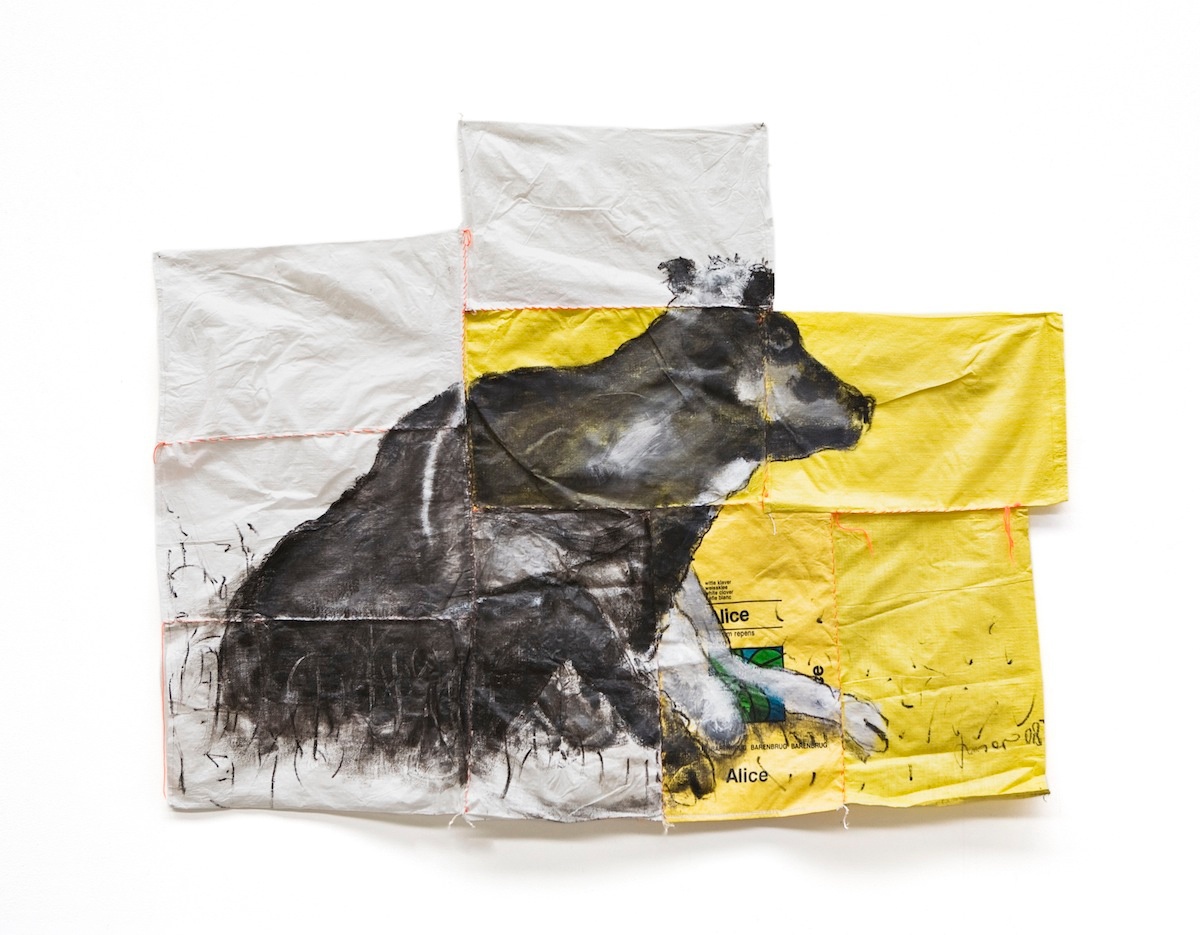 May cows stay in front of me; may cows stay behind me; may cows stay on both sides of me. May I always reside in the midst of cows. Hari Bhakti-vilas 16.252
Starting point of this series is situated 2037 meters above sea level in the Vorarlberg Alps. In the summer of 2008 I was invited to participate in the international SilvrettAtelier. This artist symposium is unique because of its high alpine topography and finds accommodation at the foot of the dam in the former barracks of the forced laborers, which contributed to the construction of the wall of the Silvretta Reservoir. To this overall scenery I developed two different accesses and expanded them in the following months, one was BIG FISH, the other was MY SECOND FLOCK.

I found myself in the midst of the alpine cows grazing in front of the wall. Next to the draft concepts for BIG FISH I started to sketch the cows around me and felt a highly balancing effect. The models attracted me day by day more and I found myself unstoppable in drawing-mode between these cows. When I subsequently became Artist in Residence in Copenhagen in the Fabrikken for Kunst og Design, these sheets had unexpected emphasis. I transfered them sketch by sketch in large format and nearly fluorescent. So MY SECOND FLOCK was born and they have always grazed at the foot of the art stream gland. The result were 22 large-format paintings on joined seed bags with a total of 36 animals. 
Ausgangsbasis der Serie MEINE ZWEITE HERDE ist die Bielerhöhe, gelegen auf 2037 Meter Seehöhe in den Vorarlberger Alpen. Im Sommer 2008 wurde ich eingeladen am internationalen SilvrettAtelier teilzunehmen. Dieses Künstlersymposium ist einzigartig durch seine hochalpine Topographie und findet Quartier am Fuße der Staumauer in den ehemaligen Baracken der Zwangsarbeiter, die zur Errichtung der Mauer des Silvrettastausees beitrugen. Zwei unterschiedliche Zugänge entwickelten sich vor Ort zu dieser Gesamtkulisse und wurden in den darauf folgenden Monaten intensiv ausgeweitet.
Den physiologischen Aspekt des Beckenbodens der gewaltigen Staumauer habe ich mit dem Konzept einer surrealen Großskulptur thematisiert. BIG FISCH penetriert den Beckenboden des Stausees. Die Staumauer ist angespannt um Energie künstlich zu maximieren. Ein Analplug aus grauschwarzem Aluminium in der Mitte der Mauer bietet Lösungsansatz. Zudem generiert die Skulptur als Aufwind-kraftwerk KUNSTSTROM und amortisiert sich somit selbst.
Während all dieser Überlegungen befand ich mich inmitten der Alpkühe, die vor der Mauer grasten. Ein willkommener herdenphenomenologischer Ausgleich, neben den Konzeptentwürfen für BIG FISCH ein paar Kühe zu skizzieren. Die Models wurden für mich von Tag zu Tag geiler und ich genoss es in vollen Zügen, in der Herde zu sitzen und diese zu zeichnen. Als ich anschliessend Artist in Residence in Kopenhagen war, hatten diese Blätter unerwarteten Nachdruck. Ich arbeitete Skizze für Skizze großformatig und nahezu fluoriszierend aus. Somit war meine zweite Herde geboren und weidet seit jeher am Fuße des Kunststroms. Es entstanden 22 grossformatige Malereien auf zusammengenähten Saatgutsäcken mit insgesamt 36 Tieren. Die Serie MY SECOND HERD wurde 2009 mit dem 4.Hubert Berchtold Preis für Malerei ausgezeichnet.
FRANZISKA & ELFI, 250 × 320 cm
WANDA & BIENE, 250 × 320 cm
SISSY & YVONNE, 220 × 300 cm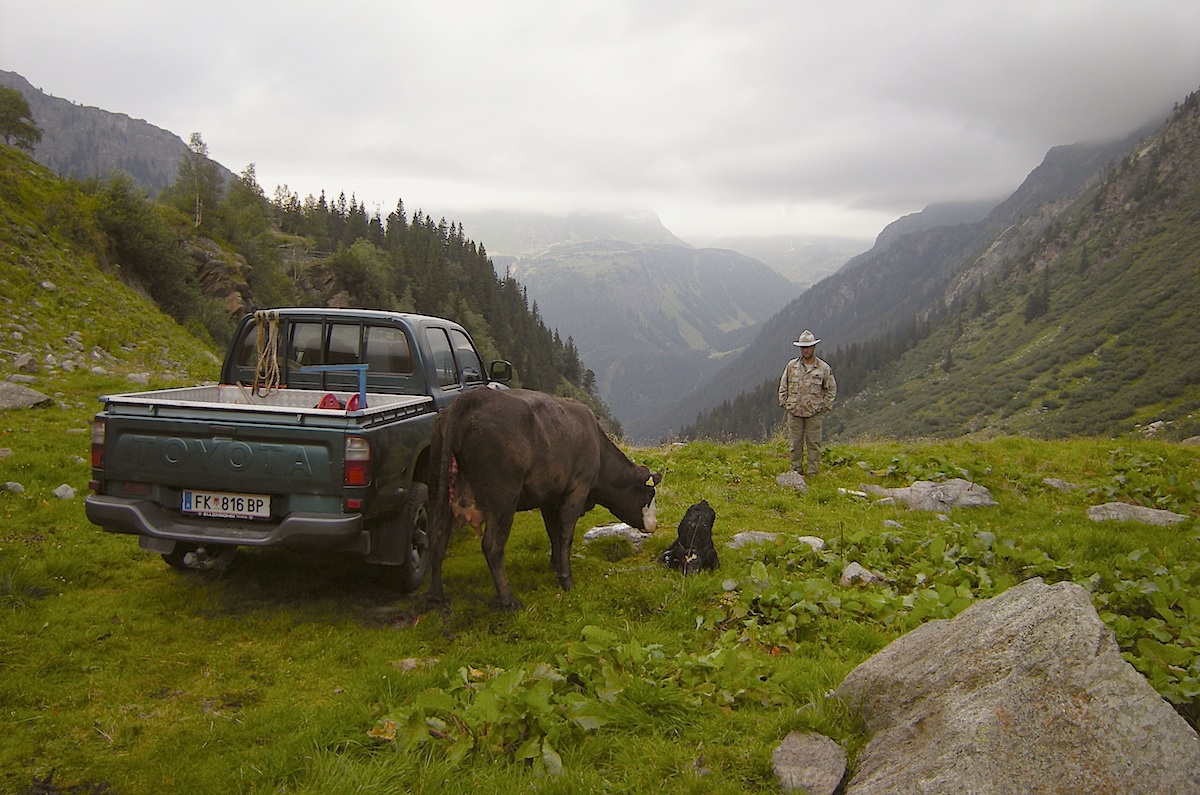 August 10, 2008
Silvretta, Vorarlberg

187 animals, 21 farmers, Willow: Kromertal, Strieglercow (Angus) gives birth to a cow calf at 2220 m at 11.15 a.m. (Vordere Bergle)

silvretta & markus, 170 x 220 cm
silvretta & markus, 170 x 250 cm
Silvrettas Mother Cow Shepard
I met Markus fleetingly at the party of the Bielerhöhe-Straßenmeisterei. He told me about his pregnant cows and I told him about my goat flock on the Sinai peninsula. I asked him if he could notify me if a cow gets into birthing mode the next few days and added that I was interested in umbilical cords. A few days later he contacted the director of the high mountain symposium, that the flanks have already come in and that it could very soon be birthtime. Of course I was excited. 
I hitchhiked up and down the high alpine road until I found that grazing land he was roughly describing. The birth had already taken place. There were complications due to a breech situation. The cow had to be tied to the shepherd's pickup truck and the veterinarian who was called for help had his hands full. But he was already on his way back to the valley when I entered the pasture at about 1800 meters altitude. A peaceful veil has settled over the excitement. The Angus-calf from farmer Stiegel Oswald is healthy. The shepherd was visibly satisfied. The black bull calf was about to stand on its own legs. The afterbirth lit in the late afternoon light from the mother cows pelvis. Mother cow shepherd Markus sprinkled mineral salts on the alpine meadow, which is covered in plate-sized sepals. Then he nudged the cowering calf gently with his hard shoes, so that it might rise. The mother cow also animated the newborn with her muzzle in similar movements as the shepherd. Immediately the little black ball dared to rise on the wobbly long legs, sank down a few times together, and then finally arrived at the plump udder. The precious biestmilk rewarded after all the hardships. The cord remaining at the navel was blowing in the wind. 
I asked the shepherd how he did he get his US camo jacket? He had traded the jacket with an US soldier at the end of his Iraq mission. Afterwards he changed to the city police in Dornbirn (Austria). His true vocation, shepherding in the high mountains he found nine years later. He would actually prefer to shepard sheeps because you can go even higher up in the mountains. But he has yet to dress his puppy for upcoming actions. Before I left, he said that the mother cows tick differently than young cattle. This experience was the prelude to my second flock. The first two cow paintings are inspired by this birth act.
Mutterkuhhirte auf der Silvretta
Flüchtig habe ich Markus kennen gelernt auf dem Fest der Bielerhöhe–Straßenmeisterei. Er hat mir von seinen trächtigen Kühen erzählt, ich ihm von meiner Ziegenherde in der Wüste Sinai. Ich fragte ihn, ob er mich benachrichtigen könne, falls eine Kuh in den nächsten Tagen ihr Kalb bekommt, und fügte hinzu, dass ich mich für Nabelschnüre interessiere. Ein paar Tage später hat er mir über den Leiter des internationalen Hochgebirgssymposium ausrichten lassen, dass die Flanken schon eingefallen sind und es sehr bald soweit sein könnte. Erregt stoppte ich die Hochalpenstraße auf und ab, bis ich die besagte Weide fand. Die Geburt hatte sich bereits vollzogen. Es gab Komplikationen aufgrund einer Steißlage. Die Kuh musste am Pickup des Hirten festgebunden werden und der zu Hilfe gerufene Tierarzt hatte alle Hände voll zu tun. Er war aber schon wieder auf dem Weg ins Tal, als ich die Weide auf etwa 1800 Meter Höhe betrat. Ein friedlicher Schleier hat sich über die Aufregungen gelegt. Das Anguskalb vom Bauer Stiegel Oswald ist gesund. Der Hirte war sichtlich zufrieden. Das schwarze Stierkalb war im Begriff, sich auf die eigenen Beine zu stellen. Der Mutterkuh leuchtete die Nachgeburt im späten Nachmittagslicht aus ihrem Becken. Mutterkuhhirte Markus streute für sie Mineralsalze auf die von tellergroßen Kelchblättern bewachsene Alpwiese. Danach stupste er das kauernde Kalb sanft mit seinen harten Schuhen, damit es aufstehen möge. Auch die Mutterkuh animierte das Neugeborene mit ihrer Schnauze in ähnlich stupsenden Bewegungen wie der Hirte. Alsbald wagte es das kleine Knäuel, sich auf die wackeligen langen Beine zu erheben, sank dabei noch einige Male in sich zusammen, um dann endlich am prallen Euter anzukommen. Die kostbare Biestmilch belohnte nach all den Strapazen. Das am Nabel verbliebene Schnürchen wehte im Wind. Wie er denn zu seiner US-Flecktarnjacke kam, fragte ich den Hirten. Er hatte sie am Ende seines Irak-Einsatzes mit einem US Soldaten getauscht. Danach wechselte er zur Stadtpolizei Dornbirn und erst neun Jahre später fand er zu seiner wahren Berufung, dem Herdenhüten im Hochgebirge. Am liebsten wäre er mit einer Schafherde unterwegs, weil man da noch höher oben ist. Dafür muss er aber erst noch seinen jungen Hund abrichten. Bevor ich ging, meinte er, dass die Mutterkühe ganz anders ticken als das Galtvieh. Dieses Erlebnis war der Auftakt für meine zweite Herde. Die ersten beiden Kuhbilder sind von diesem Geburtsakt inspiriert.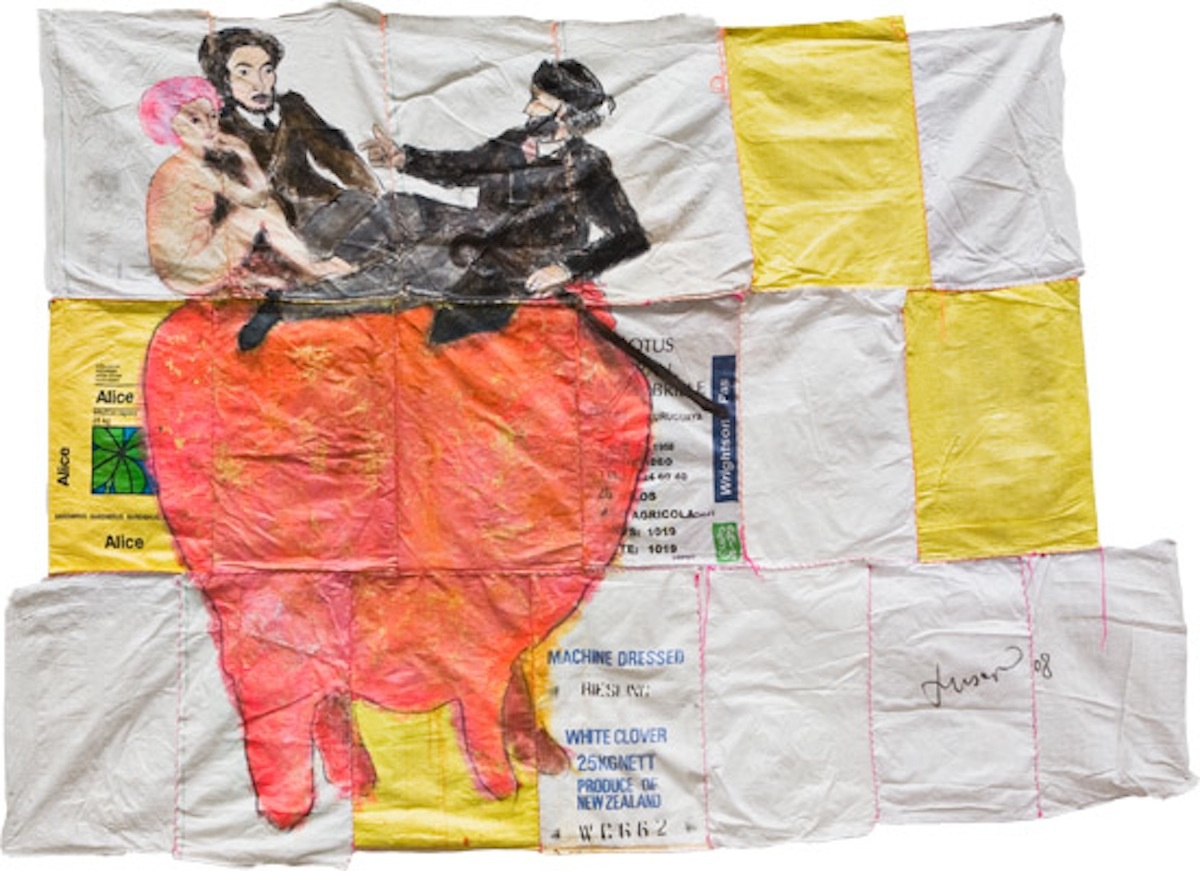 BREAKFAST ON UDDER, 330 X 240 cm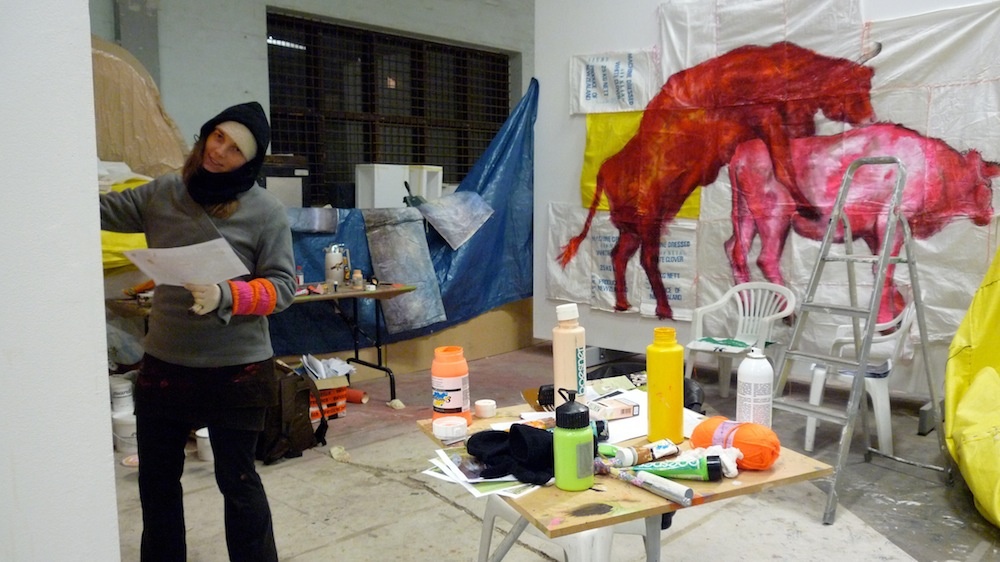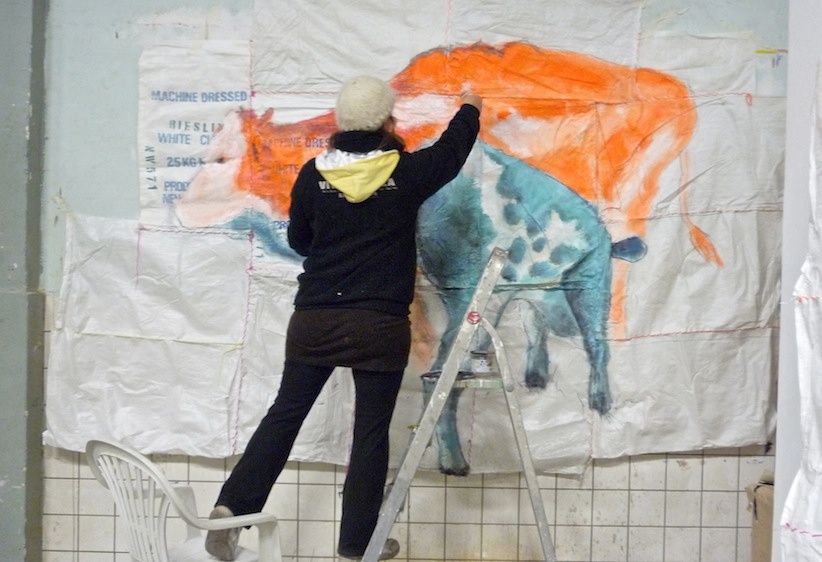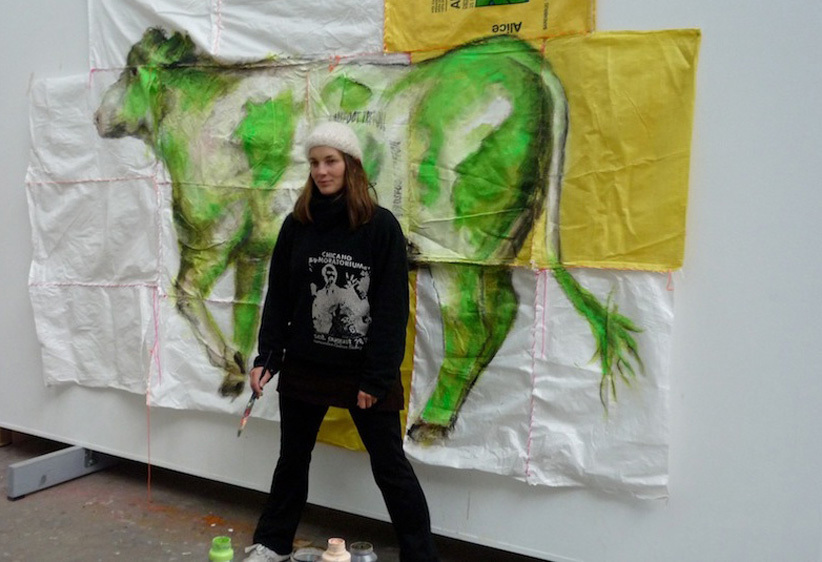 The temperature in the fabrikken op art and design during my stay was always below 10 degrees. To keep myself warm I went winterswimming every day to the ocean. That swimming had a big influence to the expression of the flock.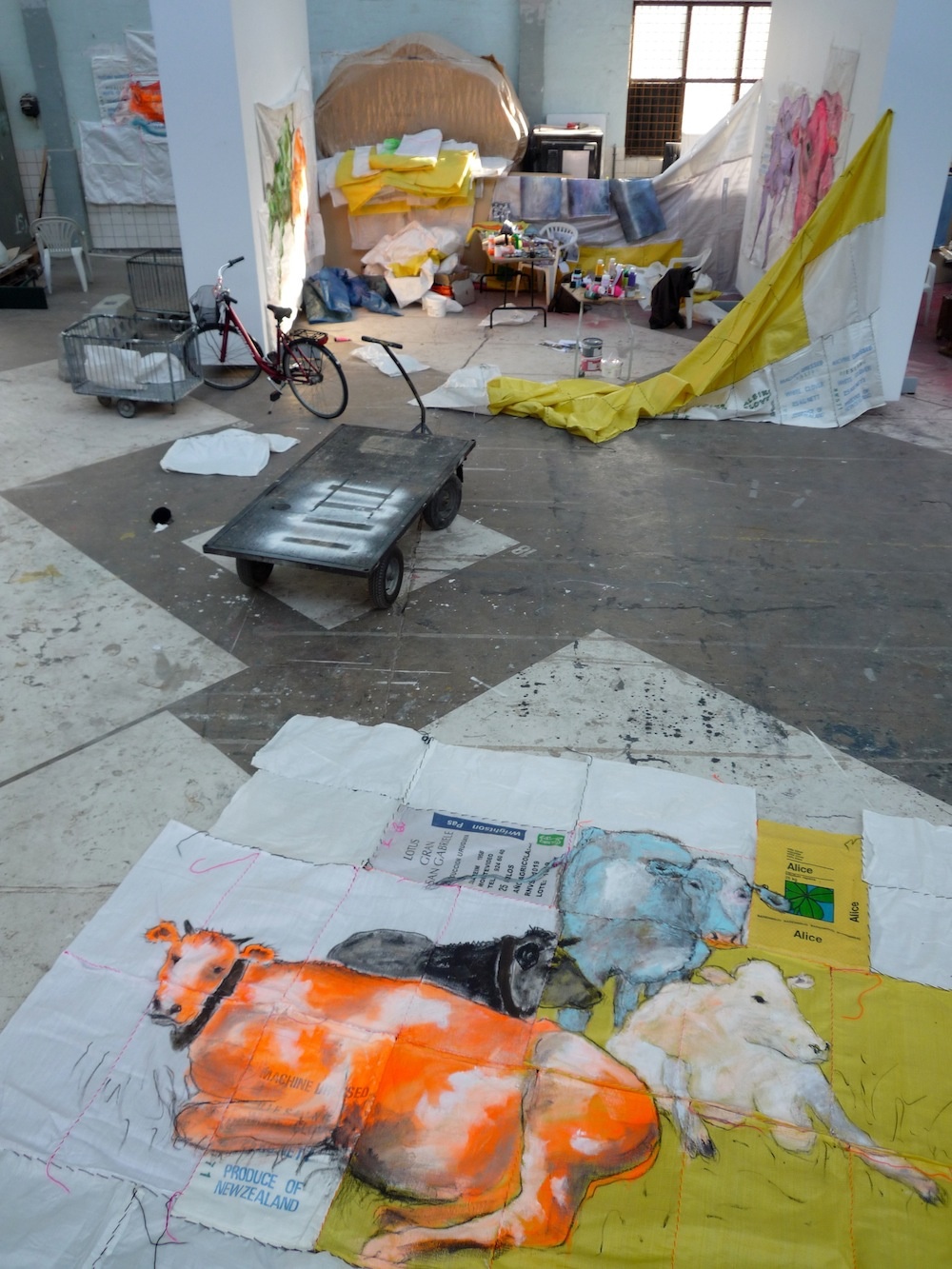 Fabrikken for Kunst og Design, 2009, Copenhagen | DK